PERSISTENCE
2014


Miniature worlds, made visible through art, emerge as metaphors for humanity's interference with the natural environment.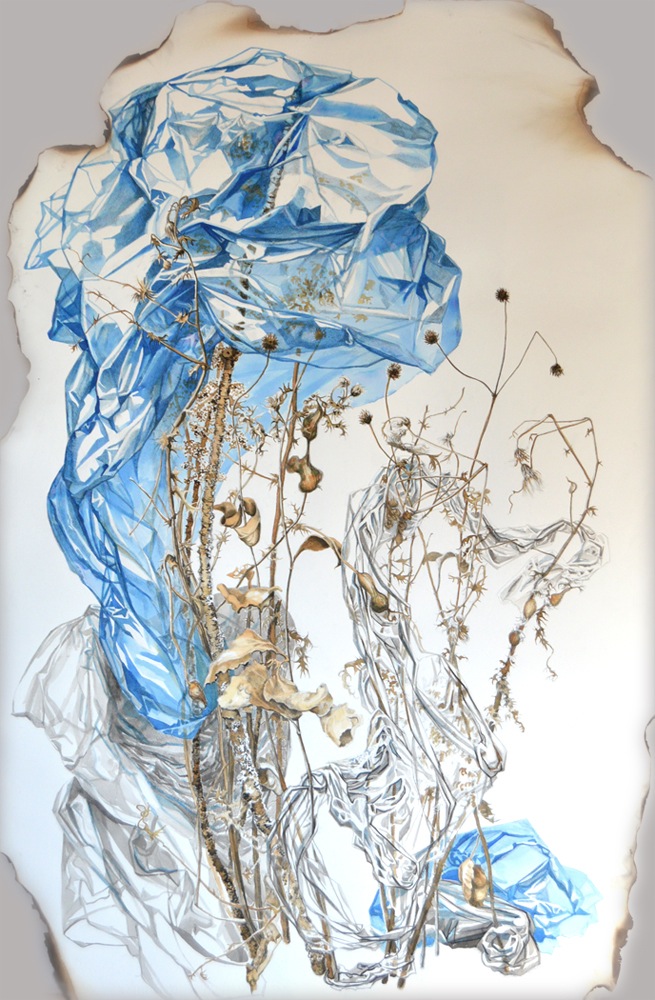 Persistence
, mixed media, 55½ x 36 in. $1 000.00 CAD

© Barbara Safran de Niverville 2015

Persistance
, médias mixtes, 139 cm x 90 cm 1 000,00 $ CAD
Persistence
expands the metaphor of discarded plastic bags in the natural environment. Thistles and weeds strive to resist probable suffocation under their folds. The recycling bag is only of benefit when humanity uses it for its intended purpose. Burn marks frame the delicacy of the drawing and contrast with details of the desiccated plants.

Persistance
étend la métaphore des sacs en plastique transparent, jetés dans les terrains naturels. Les chardons et les herbes sauvages résistent l'étouffement probable au-dessous des plis plastiques. Le sac à recyclage nous bénéficie seulement quand l'humanité se sert de lui correctement. Les brûlures encadrent le dessin délicat et s'opposent aux détails des plantes desséchées.


HOME